CCF stands for Chee Cheong Fun, a flat rice noodles usually eaten for tea or snacks. not as a main course meal.

But for this time, Benny wanted it as part of main course meal. His idea was to have it with curry chicken.

Here's what I did with it.

My CCF was bought from the wet market.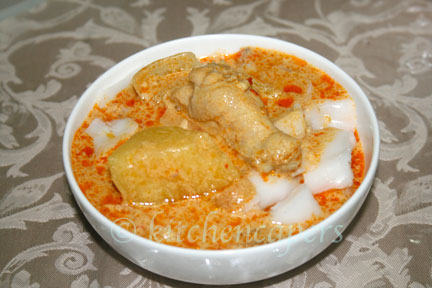 Curry Chicken with Chee Cheong Fun
Serves 6 persons

Ingredients
1 whole chicken, about 1.8 kg
1 can of Evaporated milk(I use Carnation's Full Cream)
500ml water
500ml Coconut cream
4 medium red onions
6 local ripe red tomatoes
8 local potatoes, skinned, cut into quarters.
1 tbsp salt

Curry Paste ingredients
10 pcs dried chilli(soften in water)
5 pcs chilli padi
3 small red onions
1 clove garlic
50g dried shrimps
1 pc Lemon grass
1 tsp belachan(previously roasted, pounded into powder)
2 tbsp Curry powder

100ml corn oil

Method:
1. Wash and cut up chicken into smaller pieces.
2. Heat up wok with 50ml corn oil , add onions to saute till soft
3. Add cooked paste to fry for a while.
4. Add chicken parts to fry over high heat for 5 mins.
5. Lower heat to simmer for 5 mins.

6. In the meantime, heat up a large casserole or pot with water. Once it starts boiling, add potatoes, tomatoes.
7. Turn off wok heat, pour contents into soup pot.
8. When it starts boiling again, add milk and coconut milk, lower heat to simmer till potatoes are cooked. About 15 mins over low heat. Add salt to taste.
9. Turn off heat, serve over steamed CCF or rice or roti prata.



Method to Cook the paste:


1. Blend paste ingredients except oil in a blender till smooth.
2. Heat up oil in wok and add paste to fry till fragrant and it should turn slightly darker orangey red.
3. Set aside for later use.



Notes about CCF



To serve, just steamed the CCF over rapid water for 10 mins or until soft.
_________________
Gina

The Lord is my Shepherd. I have

EVERYTHING

I need. Psalms 23:1