I improvised this recipe from a Vegetarian cookbook. Here's the full recipe. A bit long winded..so please bear with me. The original fillings were Gluten, Yam cubes, mushrooms and making it all black inside. I wanted this to be for CNY with all the nice Gold, Red, Orange colours.

So I changed the fillings to Potatoes, Gingko Nuts and Carrots.

This 2 photos are scanned from the book. For eyes, the book suggests to use Lotus Seeds..I find that too big and ugly. So I used Wolfberries instead.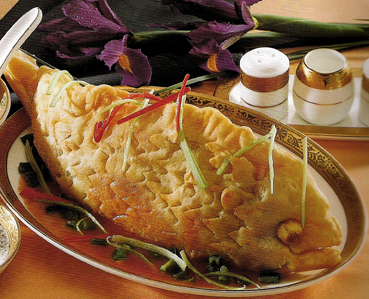 it shows u how to shape the fish manually. This requires some skill. So I cheated and use a jelly mould for it.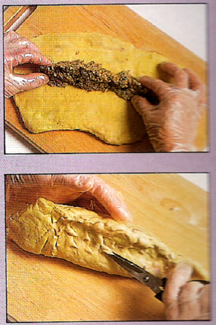 You can try other fillings to suit your tastes.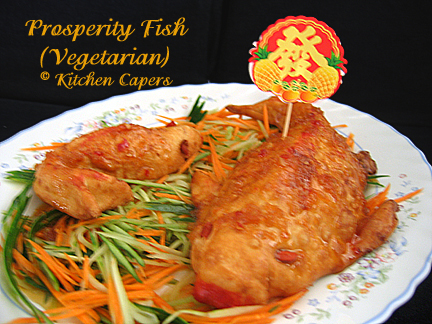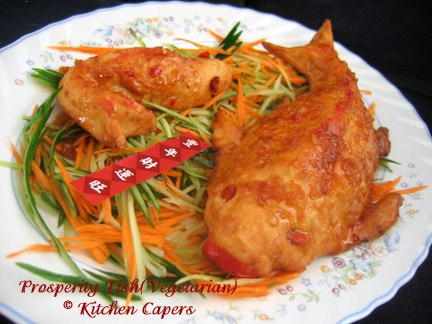 The "Fatt" is a sticker stuck back to back. In the centre is a toothpick..so that you can stick it into food and make the words stand out.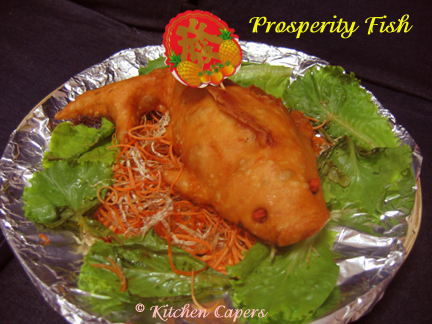 Colourful golden fillings inside. Texture of the dough is similar to Mantao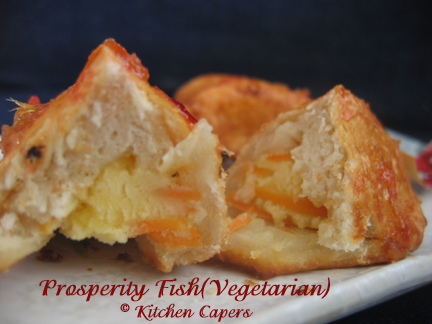 Serves a family of 10 persons


Ingredients for the Dough


250g plain flour
2 tbsp cooking oil
6 tbsp of water
1 tsp castor sugar
1/4 tsp salt



Method for the Dough


1. Add all the ingredients together and knead into a dough.
2. Set aside for later use.
Ingredients for the Fillings
1 large potato
20 pcs cooked Gingko Nuts(I used Canned ones)
1/4 tsp salt
1/4 pepper
1 tbsp margarine
1 carrot(shredded)



Method for the Fillings


1. Boil a pot of water and add whole potato to cook(with skin on).
2. Cook for 10 mins.
3. Peel off skin, discard and mash potato into mashy.
4. While its still hot, add margarine, salt and pepper to mix.
5. Add the rest of the ingredients and mix till well blended.



Other ingredients


4 pcs Wolfberries
red colouring mixed with water
4 tbsp Thai Sweet Chilli sauce
1 Japanese cucumber, shredded
1 Carrot, shredded
paper cutting of CNY greetings(optional)



Method to assemble


1. Brush a fish mould(I use my Konnyaku jelly mould for this) with oil.
2. Roll out the dough on a table. The thickness should 3mm.
3. Place on the mould.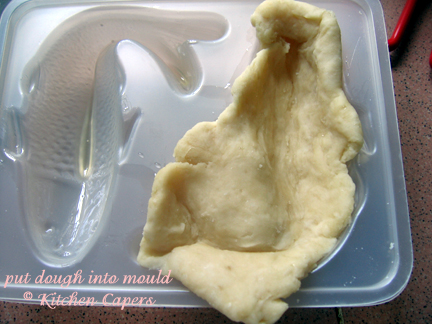 4. Add fillings and fill it inside(more or less depends on how big the fish mould is)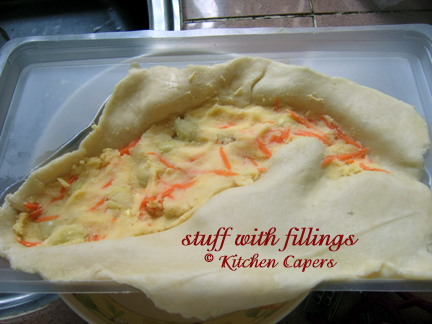 5. Patch up the top with more dough. This does not need to be neat as it will not be shown after its cooked. Its just to hold the fillings in place.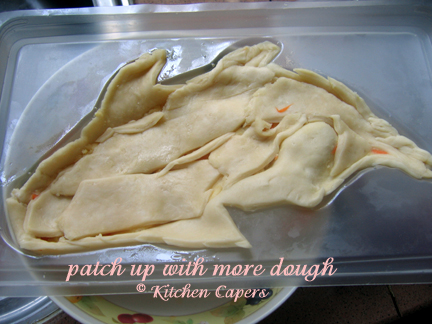 6. Turn over and knock out the fish from the mould.
7. Push wolfberries into the eye sockets.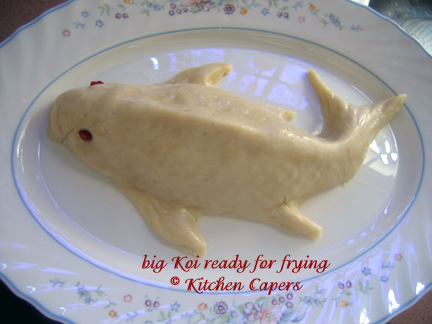 8. Brush the top(fins) with red colouring. Paint the fish's mouth in red colouring too.
9. Heat up wok with oil.
10. Slowly lower the fish into the oil to deep fry till golden brown. Slowly flip over the fish and deep fry for another 2 mins.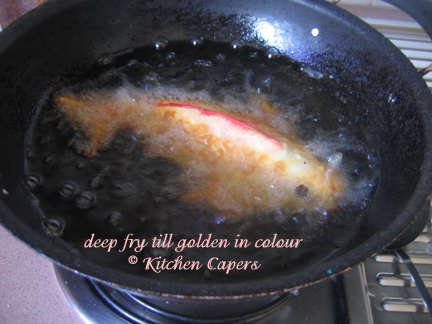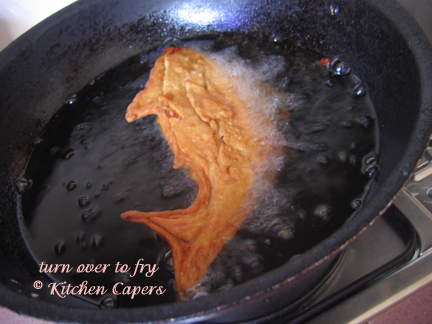 11. Remove from oil to drain excess oil (using paper towels)
12. Using a large oval plate, garnish with shredded cucumbers and carrots.
13. Place the fishes on top and drizzle with Sweet Chilli Sauce.
14. You may like to decorate it further with paper cuttings of Chinese greetings
_________________
Gina

The Lord is my Shepherd. I have

EVERYTHING

I need. Psalms 23:1