Did this for my friend Chef David Nelson who sent me a few jars of his Naughty Nelly's spices blend. I just wanted to try...! and the result was like having an explosion of taste, flavour when I ate this ice cream.

The spices left a lingering after taste even after the ice cream were consumed minutes later. Almost like a mala spice from Sichuan China, that was the sensation I got from it and could picture it with local taste.

Now I game to try out other ways to use the spices with cold dessert.

A spoonful of goodness..Hubby dearest had 2 slices of Banana ice Cream with blueberry ice cream ...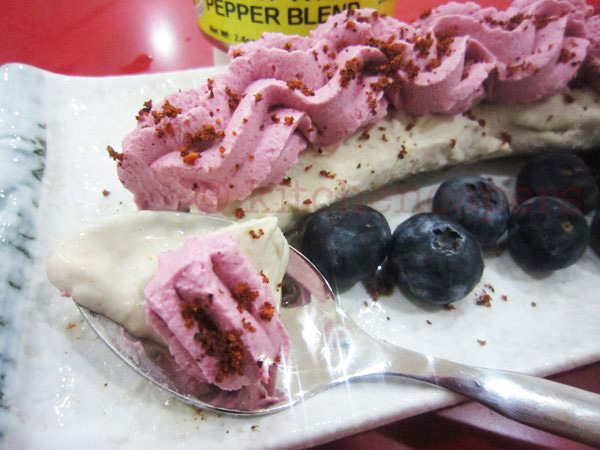 The overall photo: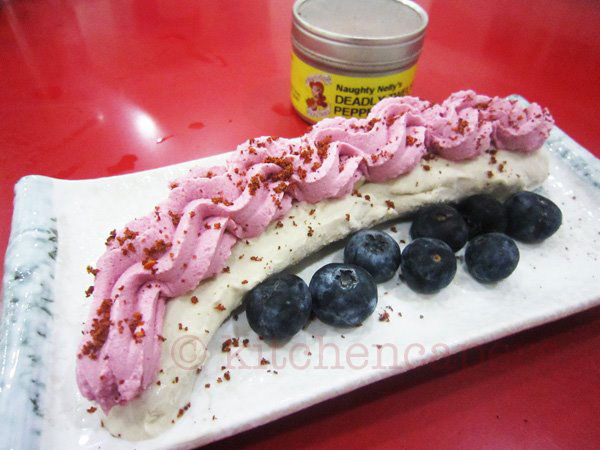 The how-to photos ...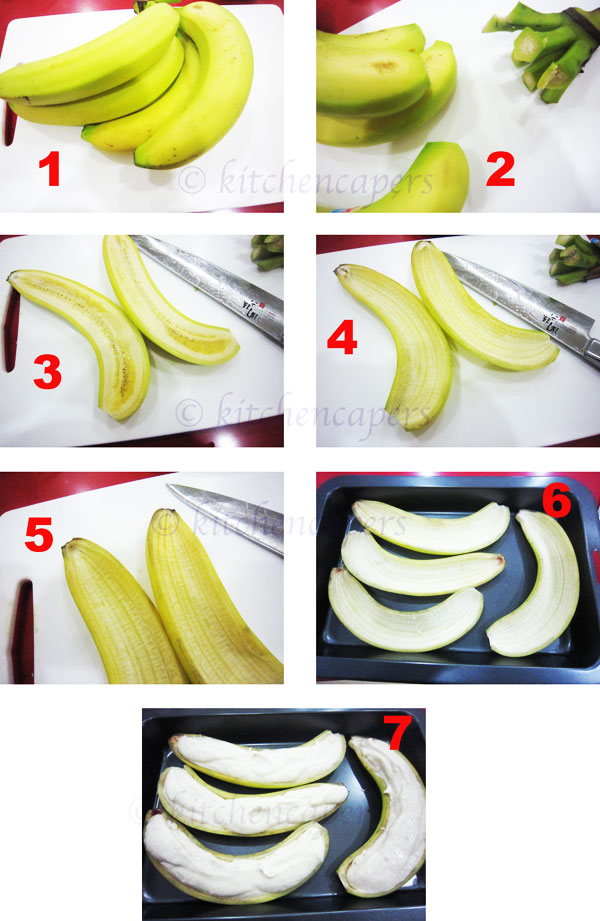 I will share the blueberry ice cream in a separate topic.



Ingredients :


2 pcs of bananas(I use Del Monte's)**
150g Dairy whipping cream
2 tbsp maple syrup



Method:




Look at the photos..its very important that you do it this way



1. Use bananas that have a really thick skin.
2. Using a sharp knife, slice off the stem to make a clean cut.
3. Then sliced thru each banana (see pic 3)
4. Gently peel back and remove the fruit.
5. Remove any traces or bits of banana at each end of the skin.
6. Lay the skin on a baking tray (Pic 6)..Set aside.

7. Add all the ingredients and blend till puree stage.
8. Scoop the puree and fill up the empty skin/shell. (Pic 7)
9. Freeze for 2 hours.



Assembly


1. Remove from the freezer and leave it at room temperature for 30 mins.
2. Then peel away the skin and discard.
3. The banana ice cream 'sticks' takes the form of the inner skin texture.
4. Lay it on a plate.
5. Pipe Blueberry ice cream over it, and sprinkle Naughty Nelly's Deadly Twelve Pepper blend over it.
6. Serve with more fresh blueberries on the side.



Storage


This is great for home parties..or after dinner desserts. Great way to serve family and friends who are visiting you for dinners at the dining table.

Best to consume this within a day or two. You can top it with other flavours of fresh fruit ice cream. I used blueberry ice cream to give it a nice contrast of colours.
_________________
Gina

The Lord is my Shepherd. I have

EVERYTHING

I need. Psalms 23:1