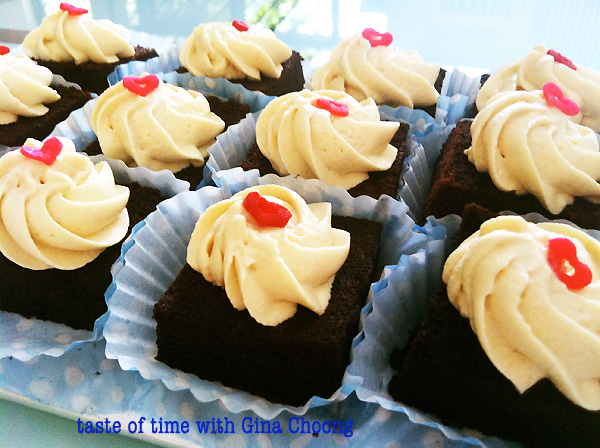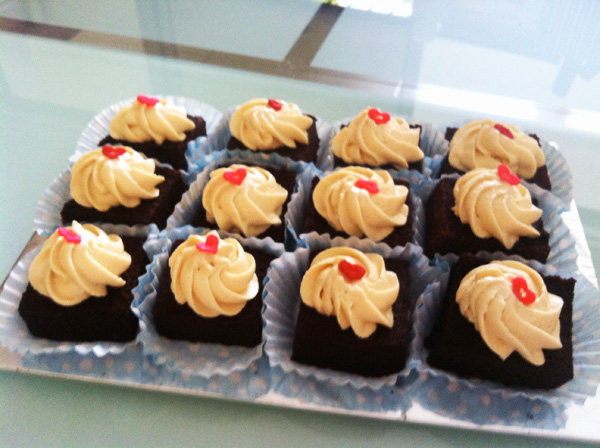 Notes : I used eggs that are 55g
Cake ring is 8x8 inches square.


Ingredients A


10 egg white
80g light brown sugar



Ingredients B


10 egg yolks
200 ml dairy whipping cream
80ml Sunflower Cooking oil
60g Cocoa Powder(I used Cacao Barry Extra Brute Cocoa Powder)

100ml Kirsch Cherry Liquer*
* You can replace this with Bailey's Cream or Kahlua



Method


1. Heat up cream in a sauce pot till warm. Add cocoa powder and stir in till there are no lumps.
Add oil and stir till well mixed. Leave this to cool before adding to the batter.
2. Lightly whisk egg yolks and add chocolate sauce and whisk till well combined.

3. Whip Egg whites in a mixer bowl with a balloon whisk till frothy.
4. Add sugar and continue to whip till stiff peaks.
5. Pour in chocolate batter and whip for 2 mins or until its well mixed.
6. Pour batter into prepared cake ring. Lightly tap to release any air bubbles trapped.


NOTE that the batter should be thick


7. Bake in preheated oven 170C for 40 mins.
8. Remove to cool and drizzle Liquer over the cake. Leave it to sit for a day, then run a palette knife inside the edges of the cake ring to release the cake.
9. Slice the cake into desired squares. Place on liner paper.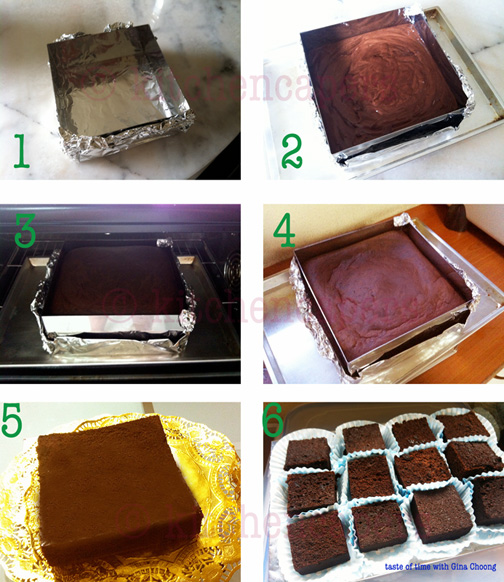 Preparing the cake ring


1. Wrap a tin foil at one end of the square cake ring
2. Stand the wrapped cake ring on a flat baking tray.


Cake ring is ready for use



Salted Caramel Frosting
Ingredients
200g Dairy Whipping cream
50g Salted Caramel Flavour(this is store bought..sold only in my store)



Method


1. Add cream to mixer to whisk till soft peaks.
2. Add flavour and continue to whisk till its stiff.
3. Turn off mixer, remove and chill for 30 mins before frosting.



Other Notes


If you want to omit Liquer, then add 1 tbsp of good Vanilla Bean paste into the egg yolk batter to mix.
Omit the step to leave it out a day.
_________________
Gina

The Lord is my Shepherd. I have

EVERYTHING

I need. Psalms 23:1