An ingenious way to make quiche that looks like a sea shell. You need only 2 special tools to create this effect.

A fluted cookie cutter that must be a little bigger than the cup size. See the photo for reference.
And a rounded base cupcake pan. You can get this pan from our stores. Its from Germany, under the Stadter brand.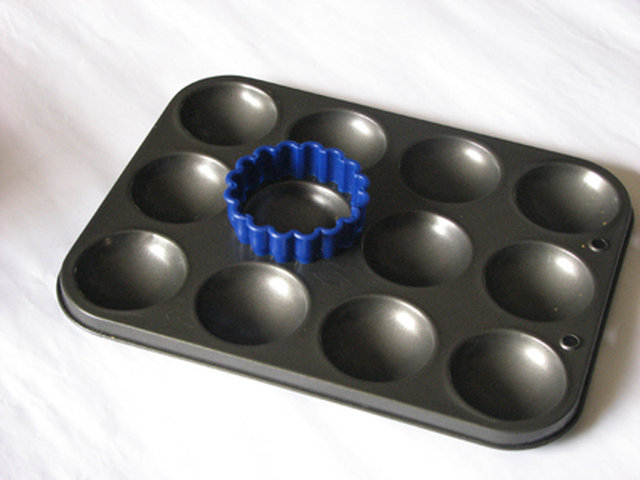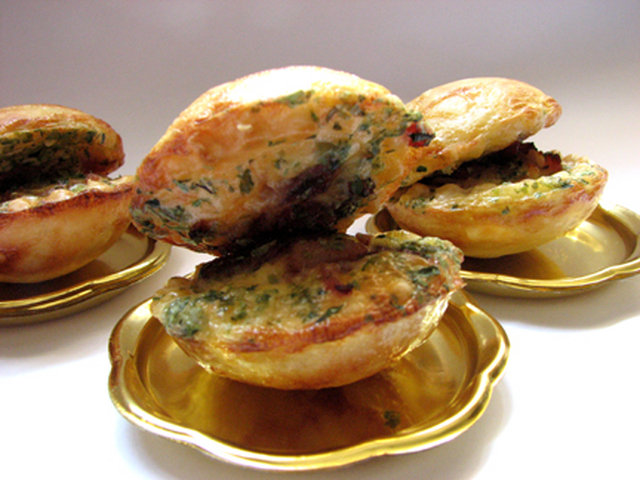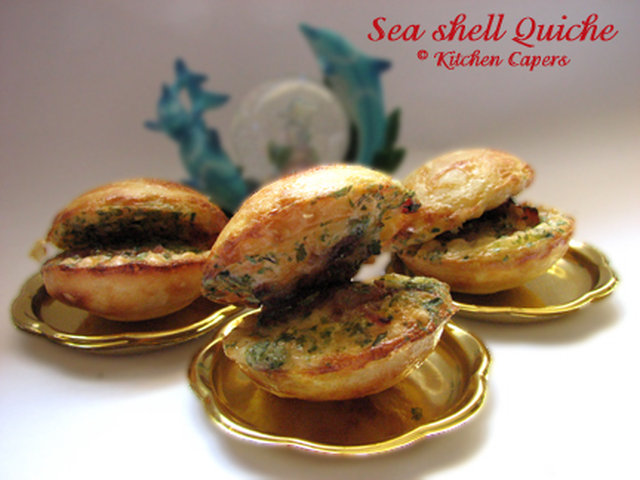 Important Tips


1. When you bake the little quiches, make sure the fillings are not level. Means the ham or bacon sticks out in the center of the quiche

As to how to bake, please refer to the recipe. No changes in the recipe except that you are now using a small tray inside of a large pie dish.

Basically, you can use any recipe for quiche that you are familiar with.

Makes 6 seashell quiche cups


Ingredients Short Crust Pastry dough:


600 g Top flour
120 ml milk(UHT milk)
300 g butter(salted)



Ingredients custard base:


375 ml milk(I used UHT milk)
300 ml Thickened cream
400 g eggs
2 medium red onions(chopped)
30 g butter

1 cup Chedder Cheese(shredded)
200 g Bacon Bits( or you can use Ham, cut into mini cubes)
1 egg yolk(to glaze)



Method for Pastry dough:


1. Sift dry ingredients into a bowl.
2. Rub butter in till it resembles breadcrumbs.
3. Add milk slowly and mix till it forms into a smooth dough.
4. Leave in the fridge to stand for 20 mins.



Method for custard base:


1. Mix milk, egg and cream together.
2. Use a hand whisk to beat the egg till its fused with the milk and cream.
3. Set aside.
4. Saute onions in butter till cooked. Set aside to cool.



Method to bake pastry dough:


1. Roll out pastry dough and cut out a round shape.
2. put the dough in a disposal aluminium cup.
3. Glaze empty pastry dough with egg yolk.(see pic above)
4. Bake in preheated oven 170C for 10 mins.
5. Remove, set aside.



Method to put everything together:


1. Pour custard in the pastry: 50% full.
2. Add 1 tsp saute onions, bacon bits and chedder cheese.
3. Pour more custard to fill up.
4. Bake in preheated oven 170C for 15 mins
_________________
Gina

The Lord is my Shepherd. I have

EVERYTHING

I need. Psalms 23:1