Cooked this yesterday, 15th day of CNY. For my parents. Wishing them a year of Happiness and Good Health..



My Mom's story of how to cook a good bowl of porridge




The rice appears grainy due to the way its cooked, prepared. My mom learnt this from a stall owner at Macpherson old market who sells porridge. The old man is about to retire and has no one to hand over his recipe or business. My mom asked him how the porridge is cook till it still look grainy despite being cooked. She loves to eat this porridge. And has been telling me for years to cook porridge this way.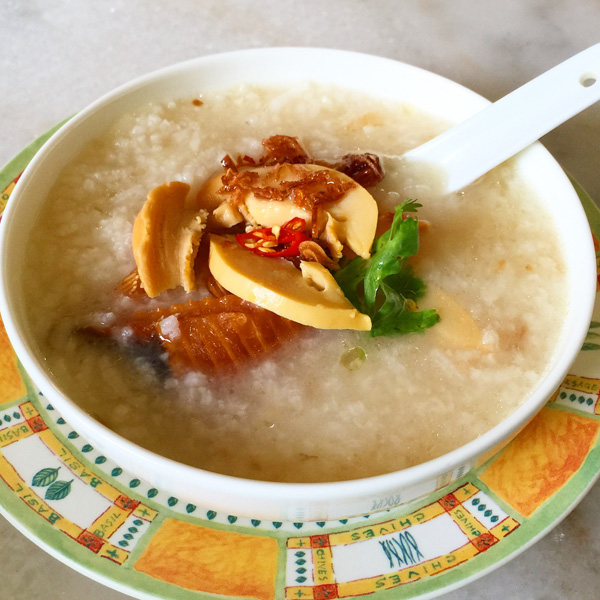 Serves 10 persons*


*my family has grown to 10 persons. Feeding both my own flock and my parents, my sister and her flock *




Ingredients


2 cups of jasmine rice
1 can of Abalone
4 pcs of dried scallops
2 pcs of dried sole fish(deep fried till crispy)
2 litres of water
salt to taste



Method


1. Wash rice till it runs clear. Add hot water to the rice and soak for 1 hour.
2. Drain and briefly rinsed under tap water.
3. Heat up a pot of 500 ml of water, abalone brine(from the can) and add scallops, sole fish to cook over medium heat for 30 minutes
4. Add rice grains and let it simmer for 30 minutes.
5. If the water has dried up, just add 1 cup(250g). Add salt to taste.
6. Turn off fire, cover the pot and let it sit for at least 1 hour.
7. Slice Abalone and serve porridge with it.

Garnish with sliced chilli padi, toasted onions.

Notes
_________________
Gina

The Lord is my Shepherd. I have

EVERYTHING

I need. Psalms 23:1