Chicken Rice Link
http://forum.kitchencapers.net/phpbb/viewtopic.php?t=10737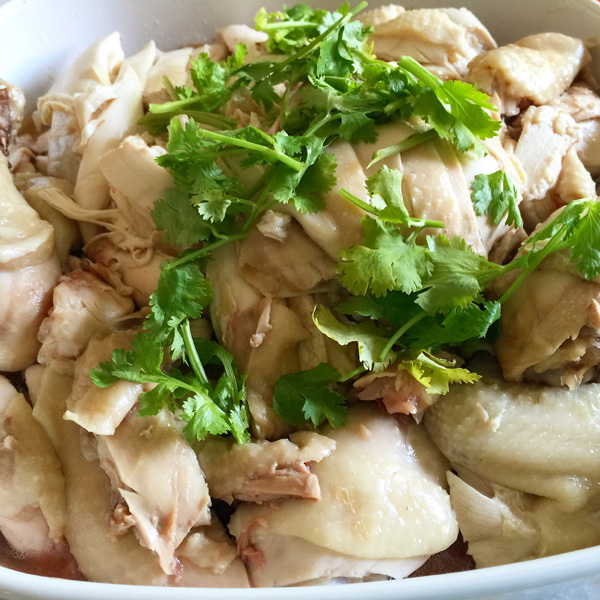 Ingredients


1.5 kg fresh chicken
1 cm of young ginger
1 clove of garlic

fresh coriander leaves for garnishing



Seasoning for the chicken


3 tbsp sesame oil
1 tsp fine salt
1 tbsp Shao Xing Jiu(Chinese Cooking Wine)



Method




* Massage and rub the chicken thoroughly before you cook it. So the meat will be tender.*


1. Boil a large pot of water and add ginger and garlic to boil.
2. Once it starts boiling, add the whole chicken into the pot.
3. Make sure the water covers the chicken, lower heat and continue to simmer for 25 mins.
4. Turn off heat and cover the pot and leave it to stand for another 20 mins.
5. Remove the chicken and put it into a pot of iced water. Leave it aside for 15 mins.
6. Remove and drain chicken of water. Rub seasoning all over the chicken and inside the cavity.
7. Cut into smaller pieces. Serve with Chicken Rice and Chilli sauce.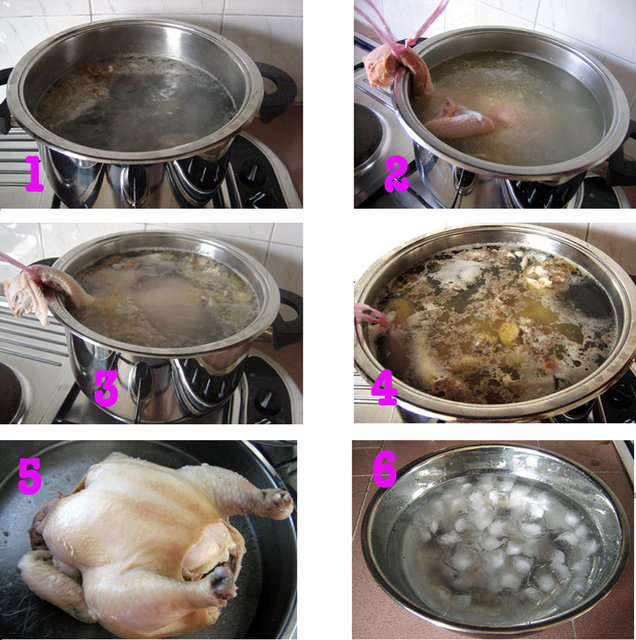 Notes


Use the stock to cook chicken rice. or use it to cook soup. Do not throw away.



Chilli Sauce for Chicken Rice





Ingredients


8 pcs fresh red chilli
2 pcs of chilli padi
1 inch young ginger
juice from 2 small limes
3 tbsp chicken stock
1 tsp sugar
1 tsp salt



Method


1. Blend all the ingredients till smooth.
2. To be eaten straightaway.
3. Can be kept in the fridge for 2 to 3 days.
_________________
Gina

The Lord is my Shepherd. I have

EVERYTHING

I need. Psalms 23:1