There is no big secret about this dish. For many who grew up in Singapore during the early 1970s, this is truly a nostaglic journey of old sights, old smells and good ole memories.

My late FIL used to peddle food on the streets. This is one of the dishes he used to sell in his hey-days. He would send my hubby, then, a young boy to 'announce' his presence in the neigbhourhood by beating 2 pieces of bamboo sticks together that goes "kok, kok or tock tock".

I used to remember as a child, this kok-kok sound will break the silence of a quiet afternoon. And I remember most clearly, how delighted I would be and running to shout back and say "kok kok mee, 1 bowl. And with extra fish balls please!!".

only now, I found out that the little boy could have been my hubby all these time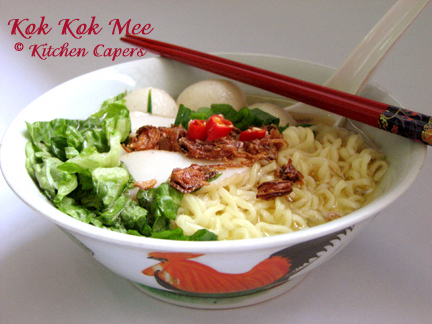 Ingredients:


10 fresh fish balls
50g raw soya beans(washed, drained)
50g ikan billis
100 g chinese lettuce
1000 ml water
200 g Egg noodles
salt to taste



Garnishing:


Toasted onions, spring onions. freshly cut red chilli.



Method:


1. Heat up the wok without oil and add ikan billis to dry roast for 5 mins.
2. Add roasted ikan billis and soya beans to a pot of boiling water.
3. Simmer over medium heat for 1 hour.
4. Strained and discard the ikan billis and beans.
5. Add fish balls to cook, season it with salt.
6. Briefly blanch egg noodles and lettuce and serve with soup and fish balls.
7. Garnish with fried onions, spring onions.



For Dry Version of Kok Kok Mee, mix this and toss with the noodles before adding fish balls, lettuce.


1 tbsp Trishaw Chilli sauce
1 tbsp onion oil
1 tsp Black Vinegar




Trishaw Chilli Sauce


Its called Trishaw Chilli sauce because the KoK Kok Mee was originally a push-cart/trishaw way of selling the noodles.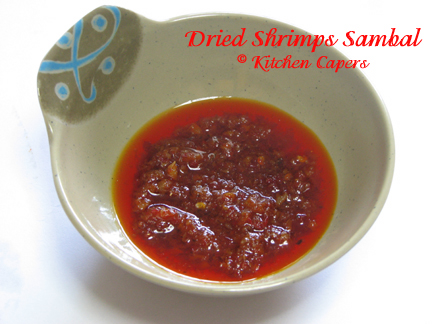 Makes 200g


Ingredients


12 pcs of dried red chilli
4 shallots
2 garlic
120g dried shrimps
1 tbsp belachan
50g sugar



Method


1.Blend everything in a food processor.
2. Heat up the wok with cooking oil and add the paste and sugar
3. Cook over medium heat till the mixture turns dark red.
4. turn off the heat, store in the fridge.
_________________
Gina

The Lord is my Shepherd. I have

EVERYTHING

I need. Psalms 23:1