I have tried so many versions, recipes found online..this is by far, the best to come. Realised that the simpliest of ingredients does wonders to a good slab of pork.

This is my own concoction of a recipe for Char Siew. And have done this 3 times at home. Benny approves of its flavour and taste. So it must be good.

The whole slab just out of the oven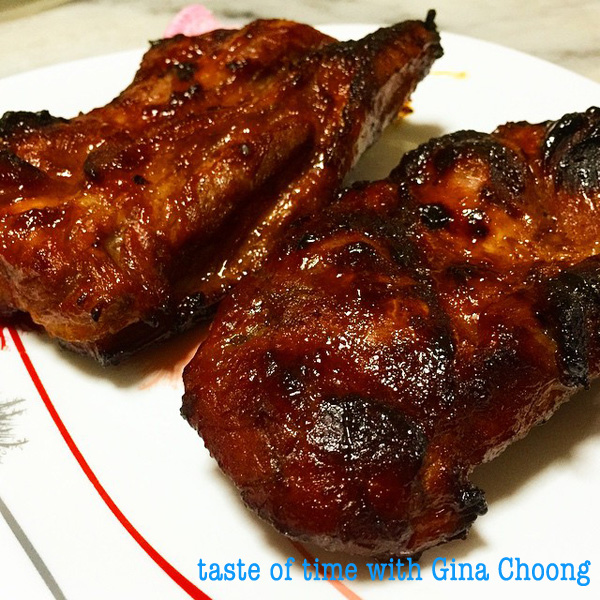 Sliced..very juicy, tender..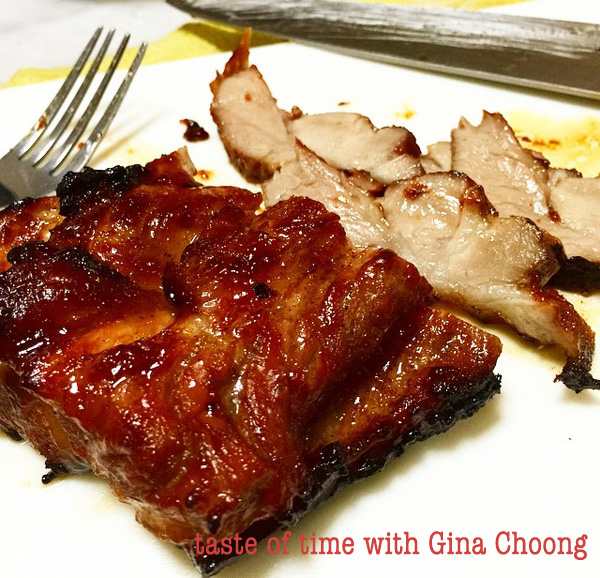 Best to use Pork Shoulder cuts. As it has 'extensive' marbling in the meat. That 'marbling' melts during roasting time and helps to soften the meat and makes it more tender, juicy.

Found a link to see the picture
http://www.foodsubs.com/Photos/porkshoulderroast.jpg



Ingredients


800g Pork Shoulder meat(sliced to flatten it out)



this is use for basting/brushing the meat during roasting


2 tbsp Maltose syrup mixed with 1 tbsp hot water



Marinate sauce


3 tbsp Hoisin sauce
2 tbsp sesame oil
1 tbsp Orange Oil Soy
1.5 tbsp 5 Spice Powder
1/8 tsp red colour powder(the kind use for making kueh)



Method
1. Rub the meat with the marinating sauce and set aside for 2 hours.
2. Place meat on a wire rack on a tray.
3. Roast the meat in a preheated oven set at 240C for 1 hour.
4. At 15 mins interval, brush the meat with maltose syrup, turn it the meat over.
5. Remove to cool, slice and serve.

Char Siew Sauce



Ingredients


Drippings from Roasting the meat (maybe 50g or less)
100g Hoisin sauce
30g tbsp sesame oil
1/8 tsp red food powder
30g sugar
150ml water

1 tbsp cornstarch mixed with 1 tbsp water



Method


1. Pour the ingredients into a sauce pot to boil.
2. When it boils, add cornstarch mixture to stir till it thickens.
3. Once it thickens, turn off the fire. Serve as a dip or over rice or noodles

this is how the sauce looks like over Char siew..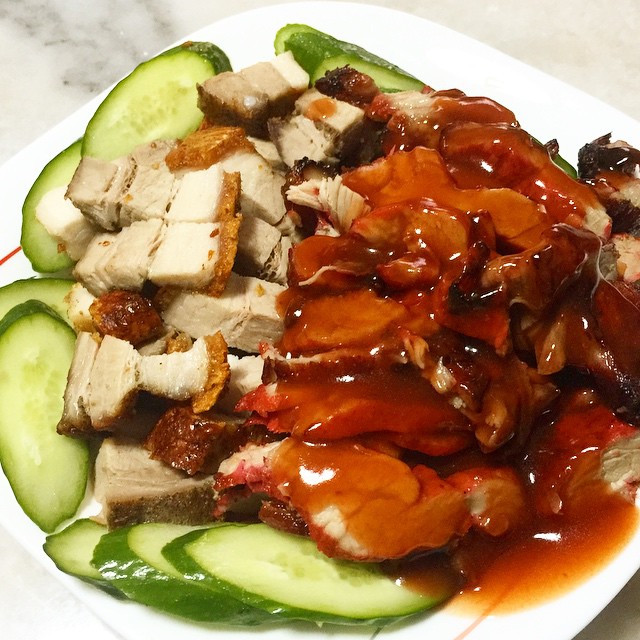 _________________
Gina

The Lord is my Shepherd. I have

EVERYTHING

I need. Psalms 23:1