I guess every family has their fair share of meat rolls recipe for Chinese New Year and each claiming theirs are the best.

My mom has been making these meat rolls and dipping it into a special batter mix she concocted over the years. She's not in her pink of health now so about 2 weeks ago, she told me what I needed to do to make these meat rolls.

I made this for our 1st Day of Chinese New Year celebration gathering. I was skeptical that it was as good as hers. So when she gave me her 'thumbs up', I was over the moon, so to speak.

However, I made some little changes to her original recipe. Mainly because I couldn't get Water Chestnuts and used 2 Cherry Apples to replace that crunchiness and juices like a Water Chestnut could give.

Plus, I read in error "Rice Flour " over "Sweet Potato Flour". !!

I guess a new recipe it has become..!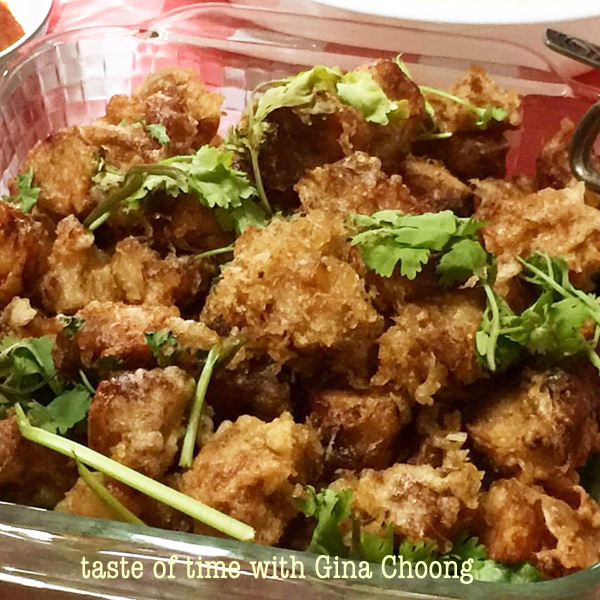 Makes 12 rolls to feed 20 persons




Ingredients


1kg of tiger prawns (devein, cut into smaller cubes)
500g minced pork (ask butcher to add some fat to be minced too)
5 pcs Water chestnuts (I used 2 Cherry Apples, skinned, cut into tiny dices)
1 tsp salt
1.5 tbsp oyster sauce
1 tbsp fine sugar
2 tbsp sesame oil
1 tsp ground white pepper
1 egg(beaten)
3 tbsp cornstarch



For wrapping


12 pcs of bean curd sheet(6x4 inches)



Alternatively, if you can get Pig Caul Fat, you can use it to replace the bean curd sheet. Mom uses that in the past, but these days its not easy to get it.






Batter mix (stir to mix)


3 tbsp glutinous rice flour
3 tbsp tapioca flour
3 tbsp rice flour(but I blindly added 3 tbsp of Sweet Potato flour)
5 tbsp water




Method


1. In a large mixing bowl, add minced pork, diced prawns, water chestnuts(or apples), seasonings and egg to mix. Lastly add cornstarch to mix.
2. Leave it aside for 20 minutes so the meats absorbs all the seasoning.
3. Soak each sheet of beancurd sheet in tap water and place on the chopping board.
4. Scoop 2 tablespoons of the meat and place on the beancurd sheet, roll up and place on a large plate.
5. Repeat process till all the rolls are done.
6. Steam on high heat for 5 minutes. This process is just to briefly cook the meat so its a little firm to pick up for frying.
7. Heat up a frying pan with a little oil and pan fried till browned.
8. Remove to cool, then sliced into chunks.
9. Heat up the wok with cooking oil till hot, then dip each chunk of meat roll into the BATTER and deep fry till golden brown.
10. Drain excess oil, serve hot!

The batter that my mom made helps to keep the crispiness. Even hours after its cooled, the meat rolls remain crispy.
_________________
Gina

The Lord is my Shepherd. I have

EVERYTHING

I need. Psalms 23:1