after a successful wholemeal bread I baked, I wanted to try this.
This was even softer than the plain jane wholemeal bread.

I was so surprised when I tried to slice the bread. It almost felt like I was slicing into a super light and soft chiffon cake.

The taste of Cocoa was evident, not too sweet despite having put an extra spoon of sugar. The texture of the bread was soft, yet there is a little crust forming outside.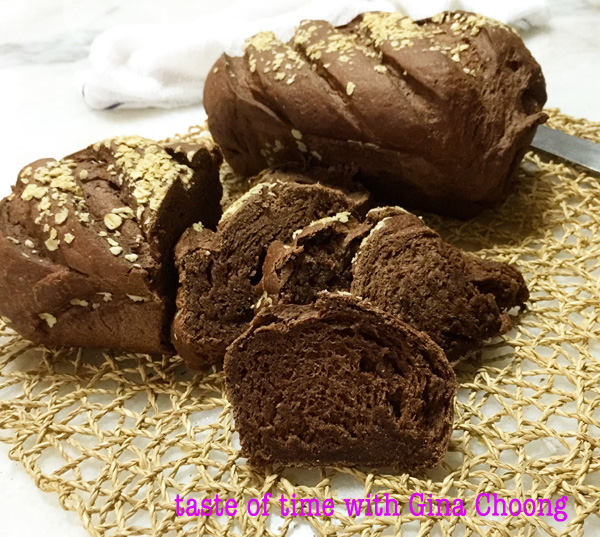 Ingredients


400g Wholemeal Flour(I used Blue Jacket's Premium Wholemeal Flour)
30g Valrhona Cocoa Powder
100g Bread Flour (I used Blue Jacket's Premium Bread Flour)
1 tsp salt

280ml lukewarm milk
1 tsp instant yeast (about 7g)
2 tbsp sugar

60ml Olive Oil



Method


1. Place cocoa powder, and 2 types of flour, salt in a mixing bowl, giving a good stir to mix evenly.

2. Scald 120ml of Fresh milk in a sauce pot till warmed. Pour into a bowl and add sugar to stir in till melted. Add remaining cold milk and stir evenly.
Finally sprinkle yeast on top and leave it aside for 5 mins.

The yeast will foam in the bowl. Means its ready for use.



This is how it looks like..bubbles on the top may appear.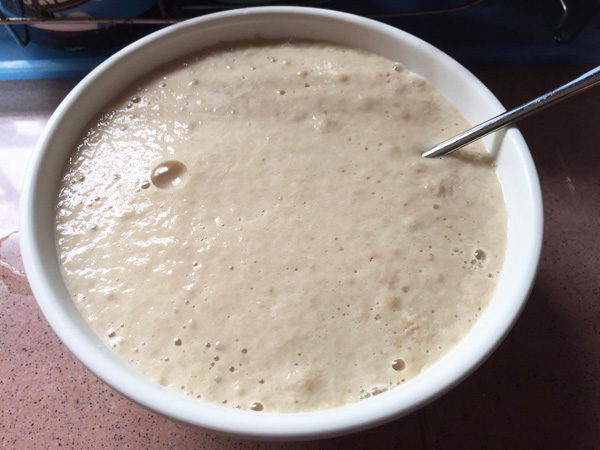 3. Make a well in the centre of the flour and pour in yeast water.
4. Using a spatula, slowly mix in flour with the yeast.
5. Pour olive oil into the flour mix and slowly knead till it forms into light and soft dough.
6. Shape into desired shapes, and leave it rise in a warm place.
7. After its risen/doubled in size, remove and shape and place into desired loaf pans, cake tins.
8. Spray water mist on the top and sprinkle some rolled oats over it. Cover the dough with a damp cloth.
9. Leave it to prove for at least 45 minutes or when its doubled in size

Left photo shows its shaped and place into loaf pans.
Right photo shows after 45 minutes of proving time, it doubles up.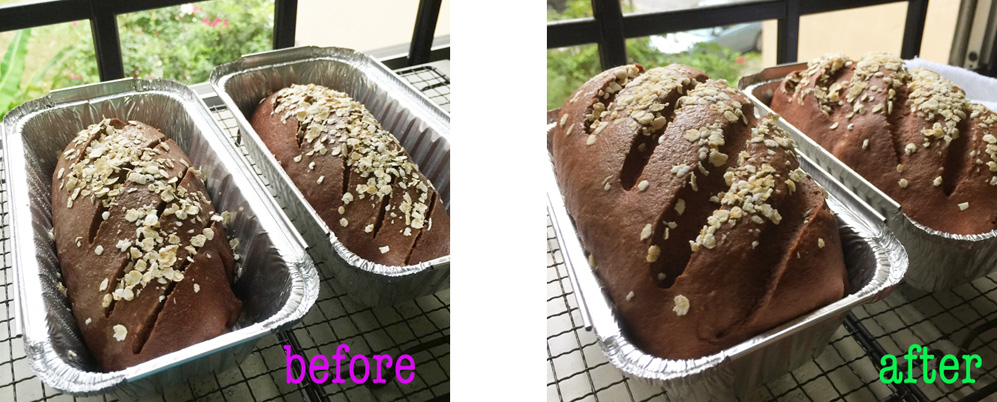 10. Baked in preheated oven 220C for 25 minutes.
11. Remove to cool and serve as you like it.
_________________
Gina

The Lord is my Shepherd. I have

EVERYTHING

I need. Psalms 23:1