Ok, the original recipe was called Sunkist Orange Chicken. Taken from a mini cookbook some eons ago when I first started learning to cook. Hubby was with Emporium Holdings and took home a cookbook for me by Sunkist Orange.

The first time I made it, my mom said too 'orangey' in taste. Over time I learnt to improvised and added Japanese Soy Sauce to it. Now its perfect. So credits to Sunkist Orange who first gave me the idea to use FRESHLY Squeezed Orange juice for this dish.

This dish was also demonstarted during my Circulon Cookware demo at Tangs Plaza yesterday (28th May 2016)

Now its everyone's favourite..!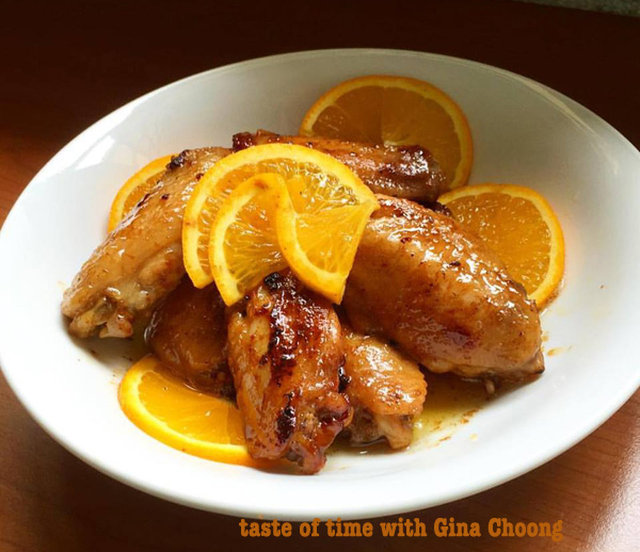 Ingredients


15 pcs of Chicken Wings(mid joint)



Marinating sauce: mix together


2 tbsp Japanese Light soya sauce
2 tbsp sugar
1 tbsp sesame oil
juice from 2 oranges (about 200ml)
zest from 1 orange



Method


1. Add marinating sauce to chicken to coat it. Leave it aside for at least 2 hours.
2. Heat up the Casserole with salted butter.
3. Place the chicken on the pan. Turn or flip over every 2 to 3 minutes.
4. Pour the remaining marinating sauce into the pan to cook. Turn the heat to low and cover the pan. Leave it to simmer for 2 to 3 minutes.
5. Turn off the heat, dish out to serve.
_________________
Gina

The Lord is my Shepherd. I have

EVERYTHING

I need. Psalms 23:1