Since posting on Kim Chi, there are so many versions now. This one was made by watching a chinese program on TV. During the show, they didn't tell you exact amount of ingredients like how much in weight per ingredient. After a day of trial n error, this is what I have made. The only difference was that I used Chilli powder(the ones we get from the supermarket or from Indian or Malay shops). I find that the Korean Chilli powder is very pungent


In the TV program, the host says you can make and eat it straightaway. But I find the flavours are not absorbed fully. So I left it aside to ferment for 8 hours.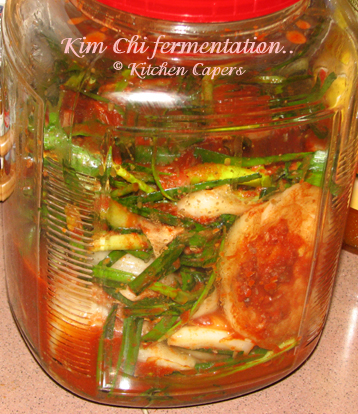 After 8 hours of fermentation, this is the final product. Its smells fresh and the taste is very unique. Its sweet due to the prawns, ikan billis(anchovies) and fresh fruits like Apples, Pears.

This is a keeper!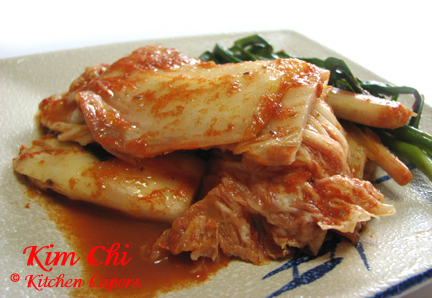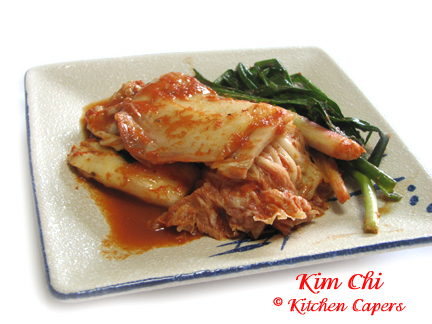 Ingredients


1 large chinese long cabbage
100g sea salt
4 stalks of spring onions
1 bunch of fresh chives



Marinating sauce


100g chilli powder
1 big Fuji red apple
2 green apples
1 big chinese pear
50g ikan billis
100ml water
10 pcs small grey prawns



How to prepare the marinating sauce


1. In a sauce pot, add ikan billis with water and boil till the water turn cloudy and smells of the dried fish. Drain the cooked fish, set aside. The stock, set aside for later use.
2. Deep fry the prawns till red. Drain, set aside.
3. Using a blender, add prawns and ikan billis to blend till paste like.
4. For the fruits, pared the skin and discard. Core and cut into cubes.
5. Blend them and set aside in different bowls(one for apple, one for pear)



How to prepare the vegetables


1. Wash and clean the vegetables under tap water.
2. Using a large deep casserole, generously add salt to the cabbage leaves.
3. Do not salt the spring onions or chives. cut into small pieces, set aside.
4. Leave the cabbages to stand for 6 hours.
5. Drain the cabbages from the casserole and briefly dip each leaf into a pot of water to clear excess salt.




How to assemble


1. Wear disposal gloves.
2. Using a large pot, add all the marinating sauce ingredients and mix thoroughly with your hands.
3. Add chives, spring onions and use your hands to stir the mixture.
4. Take each cabbage leaf and coat it with the mixture
5. Do this until all the cabbages are coated.
6. Store it in a large container to ferment for at least 8 hours.
7. After 8 hours, remove and cut into smaller pieces(optional) and re-stored them into containers in the fridge.



Important Notes


1. Salt the cabbages first.
2. Prepare the ikan billis stock and prawns ahead of time. Set aside.
3. For the apples/pears, do it only minutes just before you start mixing everything together. As fresh apples and pears turn black very soon.
4. Best to keep this in the fridge and try to finish in 2 to 3 weeks.
_________________
Gina

The Lord is my Shepherd. I have

EVERYTHING

I need. Psalms 23:1