This was one of the traditional Malay cuisine recipes which Zuraidah did for Cold Storage LIVE Cooking Demo at Northpoint Shopping Centre in August 2013.
I cooked this for my dad yesterday(21 October 2014) Notice that Zuraidah's version was a darker red, while mine was a more yellowish, brown gravy.

I followed her recipe to the T, except that I added less chilli sauce as dad couldn't take too spicy food. Also, due to time, I slow cook the beef in a slow cooker while Zuraidah had it cooked/broiled over the fire.

Either way, this dish proves to be a keeper. Zuraidah said its her mom's recipe. And this dish reminds her of her mom. They ate Beef satay this way, all cooked into the gravy and poured over ketupat(bundled rice). The satay we all knew of are served on a bamboo skewer stick and dip into the peanut sauce, accompanied with sliced cucumbers and onions.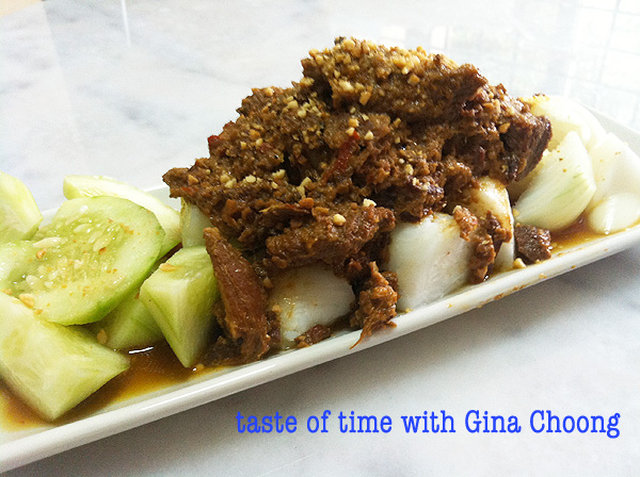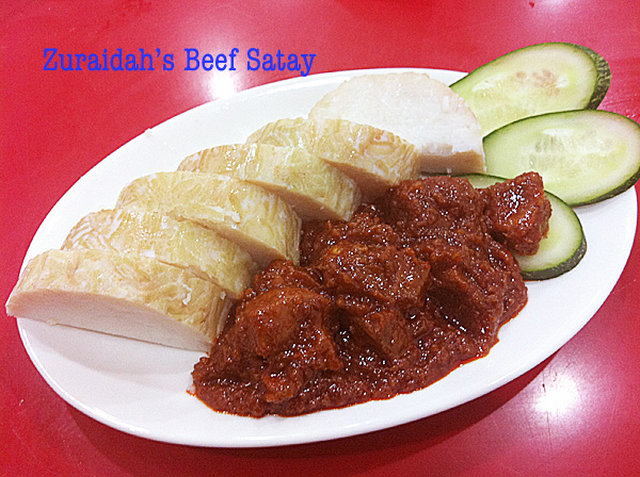 Overall, the taste is beautiful.. I loved this.. everyone at home too.

Beef Satay Gravy
Recipe by Zuraidah

Ingredients A (Blend into a fine paste)
2 pcs of large onion
5 cloves garlic
3 inch ginger
10g dried chilli, soften in water
4 stalks of lemon grass
2 inch of galangal
4 tbsp coriander seeds
1 tbsp fennel seeds
1 tbsp cumin seeds
4 pcs candlenuts



Ingredients B


300g coarsely ground peanuts
150g tomato puree
200g tomato ketchup
200g chilli sauce
sugar, salt to taste
4 tbsp of cooking oil

Ingredients C
1kg beef, cut into thick chunks (beef round or chuck tender)
500 ml water



Method to prepare the beef


1. Blanch beef chunks in boiling hot water. Drain well.
2. Heat up pot with water and add beef cubes to cook over medium fire till tender (about 1 ~ 1.5 hours)
3. Set aside.



Method to cook the gravy and meat


1. Heat oil in a pot and add blended paste(A) to stir fry at medium heat till fragrant.
2. Add stock, beef cubes and all of Ingredients B and mixed well. Stir till gravy thickens.
3. Add salt, sugar to taste.
4. Serve warm with rice cubes(ketupat) sliced cucumbers on the side.


My way of cooking this as I didn't have time to watch the fire.



Method


1. Blanch beef chunks in boiling hot water. Drain well.
2. Heat oil in a pot and add blended paste(A) to stir fry at medium heat till fragrant.
3. Add beef cubes to fry with the paste. When the meat is well coated in the paste, add the rest of Ingredients B and add only 250ml of water. Stir till gravy thickens.
4. Pour the contents into a slow cooker and cook for 3 hours or longer.
5. Add salt, sugar to taste.
6. Serve warm with rice cubes(ketupat) sliced cucumbers on the side.



Zuraidah's Notes


1. You can use other meats like Mutton or Chicken too.



Gina's Notes


I reduced the chilli sauce down to 100g. Thus the colour of the gravy differs in the photos.
_________________
Gina

The Lord is my Shepherd. I have

EVERYTHING

I need. Psalms 23:1