After years of struggling to get it done properly, its only recently I got it right. My mother in law is very good in cooking this dessert. Ask hubby to translate from her authentic teochew dialect to me in English. The only thing she could tell me was

"When the water runs clear after soaking the nuts, its time to cook the dessert"

With this tip and wisdom, I was successful in cooking this dessert. My parents loved this and though its not an expensive dish, it was very labourous to cook this. The whole process took me 3 days.

Here's my tried and tested recipe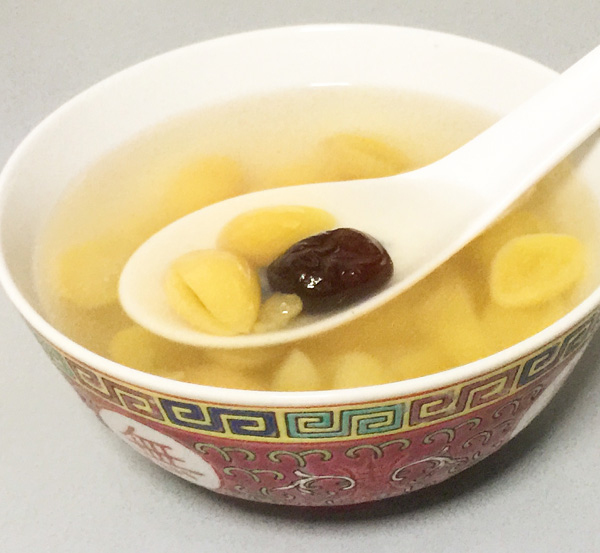 Washing it under the running tap. I know its wasting water. But its the only way I can drain the 'murky' water it emits after its broken, bitter root removed. That murky water makes this dessert tart taste, bitter..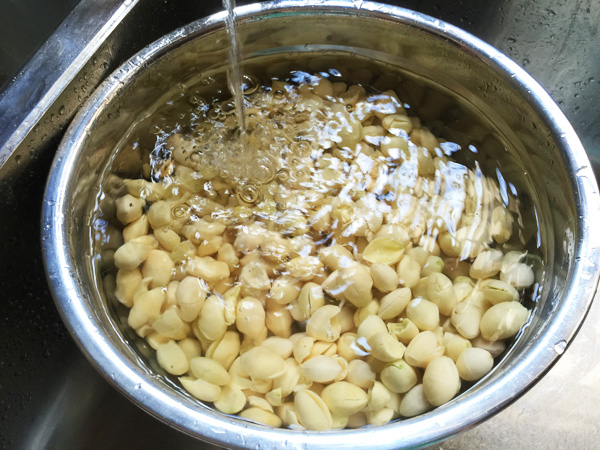 Ingredients


1kg gingko nuts
100g red dates(pitted)
500g rock sugar
2 litres of water
10 pcs pandan leaves(tied together into a knot)



Method to prepare the nuts for cooking


1. Knock the shell of the nut to break it open.
2. Soak the nuts in water for a day.
This process softens the brown skin so its easier to peel it off.
3. Day 2: Peel away the skin, slowly slit the nut to remove the root in the center. Discard the root
4. Using a new pot, add water and add the peeled nuts to soak.
5. Day 3: Wash and drain the water till it runs clear.



Method to Cook


1. Heat up a big pot with water. Once it starts boiling, add sugar, pandan leaves to boil till sugar melts.
2. Add washed/drained gingko nuts to boil.
3. Lower heat and allow it to simmer for at least 1 hour.
4. Add red dates finally and cook for another 30 minutes over low heat.

Gingko nut should look whole like a nut, but when you bite into it, its soft and breaks down.

This can be served warm or cold with ice.
_________________
Gina

The Lord is my Shepherd. I have

EVERYTHING

I need. Psalms 23:1