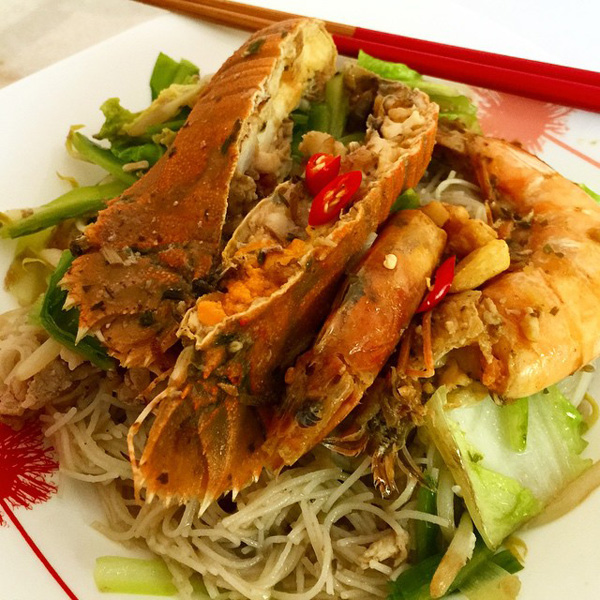 Serves 4 persons
Ingredients
1 kg of fresh slipper lobsters(locally known as crayfish)
10 pcs of large tiger prawns
1 tbsp young ginger(sliced)
350ml water
150ml Chinese Wine(Hua Tiao Jiu or Shao Xing Jiu)
2 tbsp Onion oil(if not, use Peanut oil or Olive oil)
1 packet of Bee hoon(do not soak in water)
300g Bok Choy(wash, cut into smaller pieces)
200g Bean sprouts(remove roots)



Ingredients to fry the crayfish(Slipper Lobsters)


30g salted butter
3 tbsp Fish Sauce
2 tbsp Sesame Oil
salt to taste
1 tbsp ground white pepper




Method


1. Wash, brush and clean the crayfish.
2. Heat up a wok with water, add onion oil,wine, ginger slices and crayfish to boil. Once the crayfish turns pink, remove.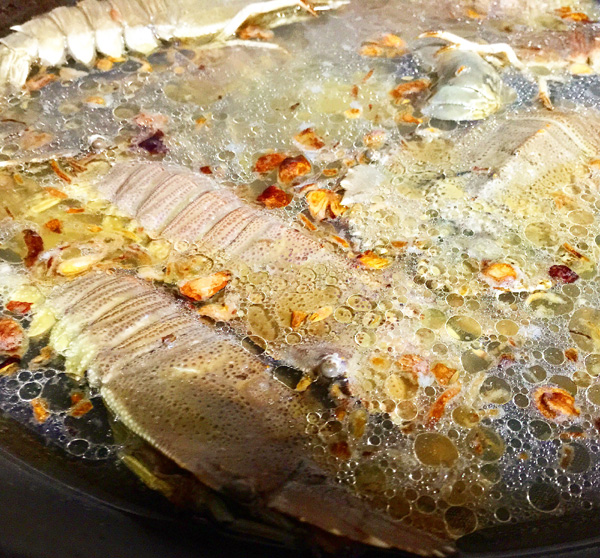 3. Add the packet of bee hoon into the hot stock to cook.
4. Leave it to simmer at low heat till the noodles absorbs all the liquid.
5. Add vegetables to fry with the cooked noodles with a little onion oil. Toss and make sure vegetables are cooked

Remove and set aside.



Method to prepare the crayfish


1. Using a cleaver knife, press down in the centre of the crayfish and cut into half.
2. Heat up wok again with 20g salted butter
3. Add sliced/chopped crayfish and prawns and fry. Add the rest of the seasonings in and toss till evenly mix. Set aside.



To Serve


1. Add noodles, vegetables on a plate.
2. Add crayfish slices on top and drizzle some sauce over it. Garnish with sliced chilli.
_________________
Gina

The Lord is my Shepherd. I have

EVERYTHING

I need. Psalms 23:1