I learnt this during my volunteer days working with AG Home(Home for Troubled Teens). I was teaching the teens how to cook as part of the Life skills training they have to go through while staying at the home.

There was a Resident Thai Chef(Aunty Noi) who prepares their daily meals. She taught me this recipe, which is authentically Thai. This is how its supposed to be made. These are very old photos I took in 2005.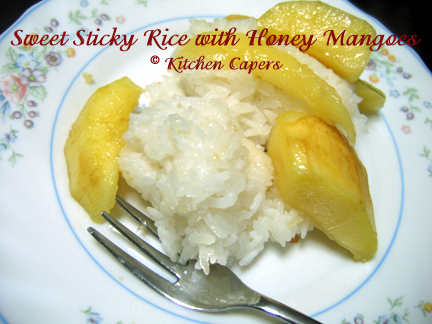 Ingredients


300g glutinous rice
300ml coconut milk(I used canned ones)
3 ripe honey mangoes(remove skin, seed, sliced)
1 tbsp salt
3 tbsp sugar



Method:


1. Wash and soak rice for 4 hours.
2. Drain excess water and steam rice in a basket over rapid water for 30 mins.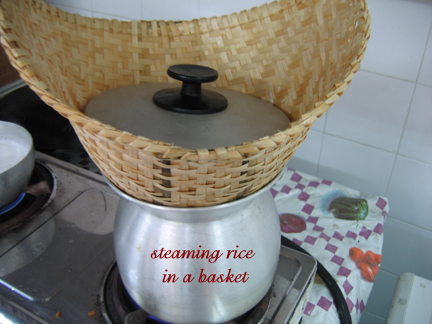 3. In a sauce pot, add coconut milk and salt to cook over low heat.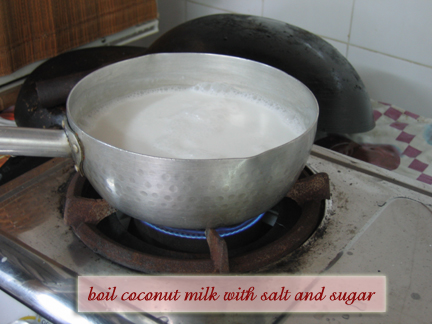 4. Stir to prevent milk to form at the bottom of the pot.
5. Next, add sugar in to stir.
6. Stir for 5 mins till you see the sides of the pot starting to bubble.
7. Turn off the fire.
8. Remove rice from steamer and add coconut milk slowly to stir and toss(like salad!!)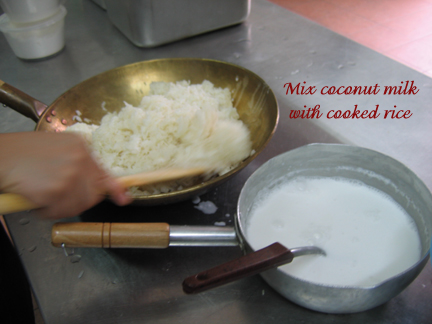 9. Cover to allow milk to be absorb into the rice.
10. To serve, add sliced mangoes on top of rice.



Important Notes by Auntie Noi:


1. For best results, use a basket to steam the rice. Rice must be dry not wet. By using a basket, during steaming, excess water will drip into the steaming pot.


I saw this basket at Golden Mile Complex, never knew what it was for..now I know.


2. Must add salt into coconut milk first and not together with sugar.
3. Must use LOW HEAT/FIRE not Medium or High fire or the milk will be overcooked.
_________________
Gina

The Lord is my Shepherd. I have

EVERYTHING

I need. Psalms 23:1