I made this jam, only for one purpose.! and that is to use it to marinate a large slab of pork for roasting.

But it is good for your toast too.
At home, we are not so into jams or marmalades. Maybe the occasional peanut butter. But I like my toast with just salted butter, ..


Anyway, here's my tried and tested recipe. I have seen so many recipes online..this is my 'lazy' way to doing it. Enjoy!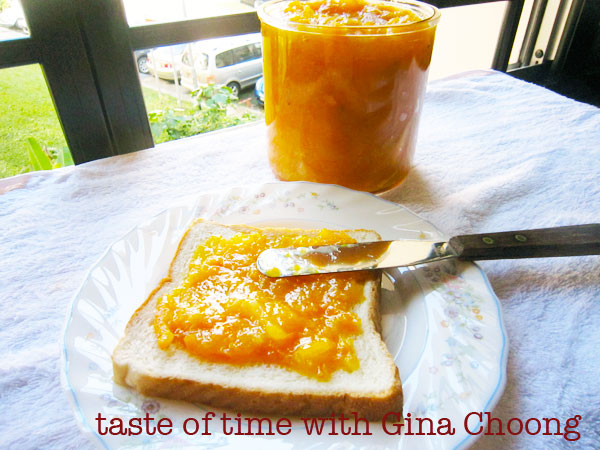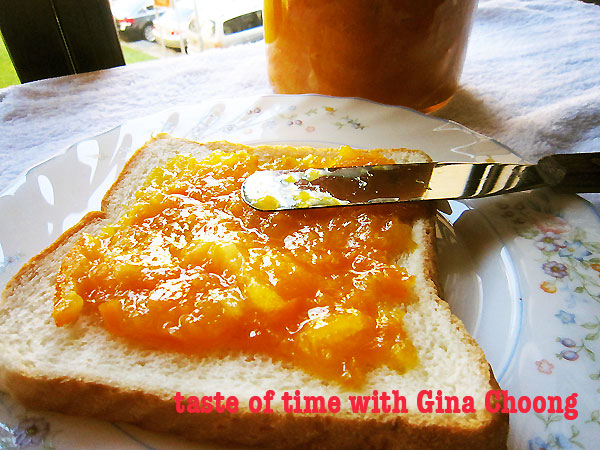 Yields 1kg


Ingredients


8 pcs of Mandarin Oranges
juice from 1 lemon
300g fine sugar
700ml water

500ml water(this is to cook/soften the peel)


Method

:
1. Wash and clean the oranges. Peel and set aside the peels in one bowl and the oranges in another.
2. Peel away any membrance from the orange, remove the seeds too.Set aside.
3. Slice the peel thinly.
4. Add water and peel into a pot to boil. Boil till the peel becomes soft. About 10 minutes.
5. Discard the water and wash the soften peel in cool tap water.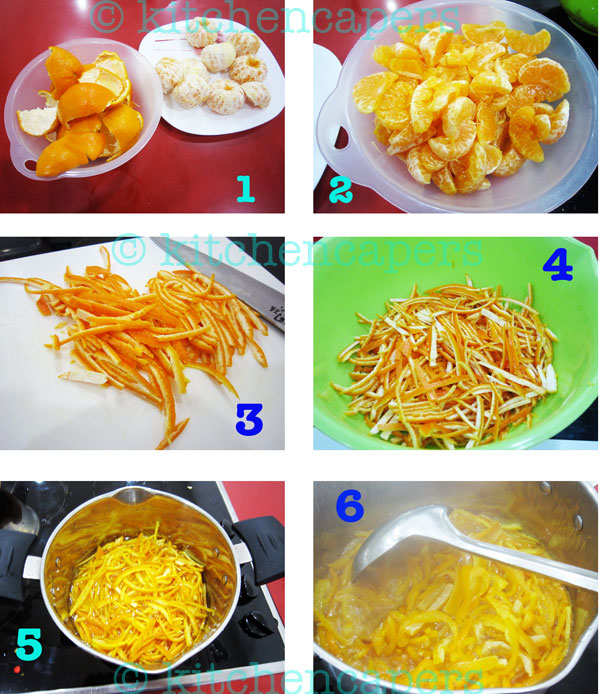 6. Drain and add it back to the pot. Add water (700ml), orange, lemon juice to cook.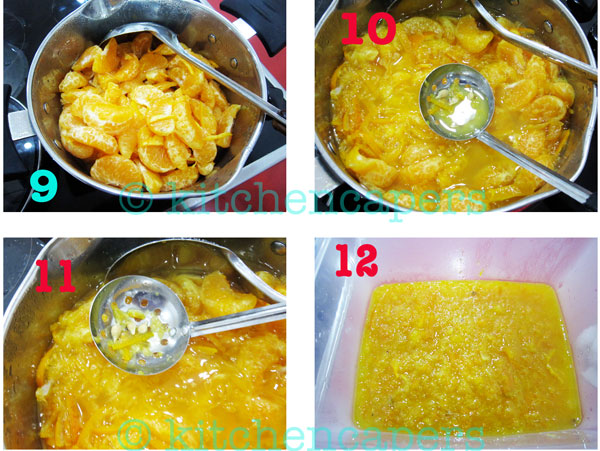 7. once it starts to boil, seeds or membrances(pith) may float to the top. Use a slotted spoon and scoop out to dsicard. This is just in case, you slip out some seeds and didn't remove it.

8. Add sugar and stir and continue to cook till everything softens. This may take a good 40 to 50 mins over low heat.



* be careful, once sugar has been added, it may splatter and spit and you may be burn if you stand too near it..so keep the heat to low..



9. I run this with my Bamix Blender to chop up everything. Remove to cool completely before storing into glass jars.

10. Keeps well in fridge for months.. Goes exceptionally great with Toasts..!



Notes


Many recipes stated to scrape out the pith after boiling the peels. I find that alot of work once its sliced.

So I discarded the water during the boiling stage to soften the peels. And wash, drain before setting it to cook with the rest of the ingredients.

The mixture looks water when its hot/warm. So cooling it will help it to gell better.
_________________
Gina

The Lord is my Shepherd. I have

EVERYTHING

I need. Psalms 23:1