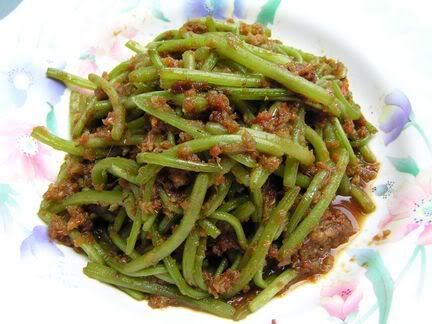 Sambal Sweet Potato Leaves





Ingredients:


2x200g bunches sweet potato leaves (using only stems) washed, peeled and snapped into short pieces
2 tbs oil
1 tsp sugar
1 tb light soy
2 tbs water



Rempah

to be pounded/blended together:
5 red chillies (de-seeded if necessary)
1 large onion (diced)
1 clove garlic (chopped)
2 tbs dried shrimps (washed and soaked in water to soften, drained)
1 tbs belachan (toasted)

Method:


1. Remove green leaves to get stems. Wash stems. Peel off stem covering. Snap into short lengths.
1. Prepare rempah the traditional elbow-grease way or blend coarsely.
2. Heat wok, add in 3 tbs oil.
3. Add rempah. Stir fry till fragant.
4. Add sweet potato stems, sugar, soy and water
5. Stir fry quickly 2 minutes.
6. Serve immediately.



Note

: If eating the green leaves as well, one 200g bunch of sweet potato leaves would be sufficient.