Just sharing a new way to serve fish balls for a home party.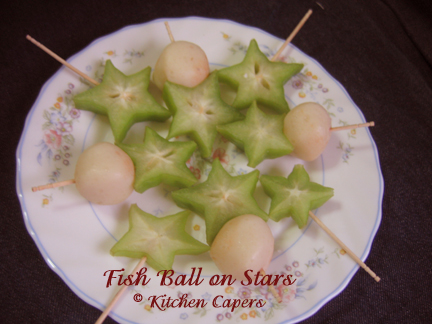 Notes


1. Either use boiled fish balls or deep fried fish balls.
2. Cut star fruit with 1 cm thickness.
3. Use a toothpick to prick thru each fish ball and top it off with a slice of star fruit.



Variations with the Star Fruit


1. Use a satay stick(which is longer) and use it for your Chocolate Fondue!
2. Or just dip into hot chocolate on each tip of the star to make it an interesting appetizer for home parties.
3. Or you can add baby sausages, sotong ball or other types of easy finger food on a stick..always top it off with a star fruit. Makes a beautiful dish to serve.



_________________
Gina

The Lord is my Shepherd. I have

EVERYTHING

I need. Psalms 23:1