HTBADG
lurker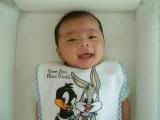 Joined: 09 Jan 2007
Posts: 11

Posted: Mon Feb 12, 2007 5:55 pm

Post subject: Chocolate Cups with Whipped Cream

---

I caught this recipe by Rachel Ray while watching the Oprah Winfrey show not too long ago. It's incredibly easy and absolutely YUMMY! I did this last weekend with my sis-in-law for our early reunion dinner and everyone loved it. They couldn't have guessed how easy it was to make.

View recipe here
http://www2.oprah.com/foodhome/food/recipes/200605/food_20060516_cups.jhtml



Personal notes:

I used Kahlua as my choice of booze cos we didn't have anything else. I also would have omitted the sugar altogether since the chocolate and milk are already sweet.