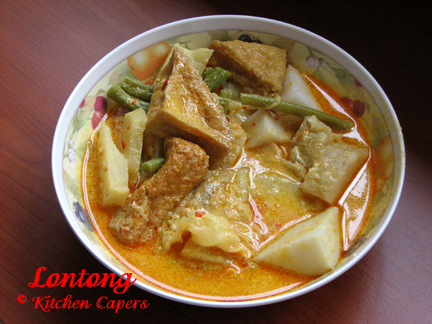 *note, this is not for buddhist vegetarians, due to the use of Onions, garlic in the rempah paste*



Yields for 15 persons


Ingredients


1 cabbage - wash, cut into 2 per leaf
1 bunch of long beans - cut into smaller pieces
1 turnip/bang kwang - sliced and cut into thin chunks
4 pcs of firm bean curd/tau kwa - cut into smaller pieces,

deep fry till firm


8 pcs of fried bean curd/tau pok - cut into smaller pieces
2 litres coconut milk(I use Heng Guan packets)
1 litre Evaporated milk
500ml water
3 tubes of pressed rice(lontong rice)
10 pcs hard boiled eggs(more or less based on number of persons)



spices paste - to be blended into a smooth paste


100g dried chilli - soften in water
50g fresh red chilli
5 pcs candlenuts
1 lemon grass
1 inch of galangal
1 cm of fresh tumeric root
10 shallots
5 garlic
2 tbsp Vegetarian belachan



Method for the paste


1. Heat up the wok with 150ml of cooking oil.
2. Add blended paste to fry over medium heat for 15 mins
3. Stir occasionally and when paste has turn into a darker shade and is fragrant. Turn off the heat. Remove and set aside.



Method for the curry


1. Add rempah paste and water to heat in a large pot.
2. Lower heat and add coconut milk, evaporated milk. Stir.
3. Add all the vegetables in to cook, except the bean curd.
4. Simmer over low heat for 15 to 20 mins.
5. Once all the vegetables are cooked, add the bean curd.
6. Lastly, add salt to taste.



Method for the pressed rice


1. Steam the rice that is covered/packed with banana leaves.
2. Steam for at least 10 mins over high heat.
3. Remove to cool slightly..then cut into cubes.



Method to Serve


1. Put a few pieces of rice cubes on a bowl.
2. Pour hot curry and vegetables on top.
3. Serve immediately..while its still hot.



_________________
Gina

The Lord is my Shepherd. I have

EVERYTHING

I need. Psalms 23:1