HTBADG
lurker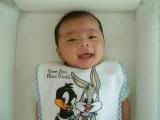 Joined: 09 Jan 2007
Posts: 11

Posted: Fri Mar 09, 2007 9:45 pm

Post subject: Ritzy Chicken Nuggets (healthier & taste better!)

---

This is another recipe by Nigella Lawson. It uses buttermilk to marinade as well as tenderise the meat. And yes, these nuggets are absolutely tender. This was featured in her show as kiddie food that adults love too. I couldn't agree more...

2 (each weighing approximately 8 ounces with the peg bone, less without) chicken breasts
1 cup buttermilk
1/2 cup oil (if you are frying the nuggets)
1 3/4 cups cracker crumbs (recommended: Ritz crackers)

Cut off the chicken peg bone if there is 1, and put the chicken breasts one at a time into a freezer bag so that it lies flat. Bash with a rolling pin until the chicken is quite thin, and then take it out and slice into about 6 to 8 slices. Repeat with the other chicken breast. This is easiest done with scissors.

Put the slices into a freezer bag with the buttermilk and leave in the refrigerator to marinade for up to 2 days.
When you are ready to cook them, heat the oil in a large frying pan, or preheat the oven to 425 degrees F.

Tip the cracker crumbs into a wide shallow bowl, and then shake off the excess buttermilk from the nuggets and dip them in the crumbs. Coat them well before lying gently in the hot oil, and cooking for about 2 minutes or so a side until they are golden brown. Transfer to a kitchen towel on a plate to blot the excess oil.

Alternatively, you can lay the crumb-coated chicken nuggets on a lined baking sheet and bake for 15 to 20 minutes. They can also be frozen once marinated and crumbed. If cooking from frozen, add 5 minutes to the oven cooking time.

Personal note:
If you are serving these more for adults, I would suggest mixing in some salt and pepper to the cracker crumbs - Tastier.