iazzy
lurker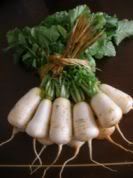 Joined: 29 Mar 2006
Posts: 67
Location: South Korea now back in S'pore
Posted: Wed Apr 11, 2007 11:37 pm

Post subject: Mussels soup

---

Saw this recipe in the korean cooking program.

Mussels 500g
500ml water
1 minced garlic
50g white radish (sliced 1cm think)
1 chilli (I like the soup spicy so I used the hot chilli)
1 1/2tsp salt

1. Boil water and put in radish to boil to make stock.
2. When the radish is cooked add in the mussels, garlic, chilli and salt.
3. Boil for another 15 mins without covering.
4. Serve.

Extra note : I added in a piece of kelp together with the radish to make the stock. The soup looks a little cloudy because of the mussels.