This WAS a recipe that was created on-the-fly for a Cooking demo with Cold Storage's National Day event this year. Pauline did the cooking demo while I did this cooler, Singapore style.

We served about 10 litres and still people wanted more.

Later, I started using this for home parties and it proved to be everyone's favourite too.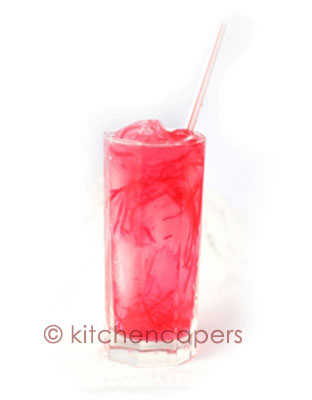 Ingredients for red layer:


1 tbsp agar-agar powder
120g fine sugar
900ml water
2 drops of red food colouring
1 tsp strawberry essence



Ingredients for white layer:


1 tbsp agar-agar powder
120g fine sugar
500ml coconut milk
400ml water



Method:


1. Mix agar-agar powder and water in a saucepan and heat.
2. When the mixture boils, add sugar and stir to dissolve. Remove from heat and add food colouring and essence.
3. Pour into a square pan and leave aside to set.
4. Repeat step 1 for the white layer. Add sugar and coconut milk and stir over low heat to melt sugar.
5. Pour the white layer in a separate tray. Leave to set and chill.

To make this cooler drink:


Ingredients


500g sugar
300ml water
1 bundle of pandan leaves

lots of ice
1 tsp Rose water or rose essence
2 litres of water



Method


1. Grate each tray of agar agar into fine shreds
2. Boil water, pandan leaves and add sugar to stir till it melts.
3. Discard pandan leaves.
4. Make the cooler by adding the jelly strips to cold water sweetened with syrup. Top with lots of ice and serve.



Notes


You can make the sugar syrup ahead of time and keep aside.
_________________
Gina

The Lord is my Shepherd. I have

EVERYTHING

I need. Psalms 23:1